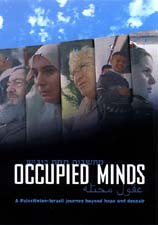 Type:


Documentary





Director:


Jamal Dajani & David Michaelis





Year:


2005





Time:


58 minutes





Produced by:


Jamal Dajani & David Michaelis





Language:


English, Arabic & Hebrew with English subtitles

Official Selection - Cinequest Film Festival, March 2006



Occupied Minds takes viewers on an emotional, intensely personal odyssey through one of the world's most volatile regions. The film follows Palestinian-American journalist Jamal Dajani and Israeli journalist David Michaelis as they travel together to Jerusalem, their mutual birthplace. Together they hope to offer unique insights into the divisive Israeli-Palestinian conflict.

The two journalists meet with a variety of people, including a Palestinian gunman who is on Israelís most-wanted list; an Israeli soldier who discusses his military service; an Israeli surgeon who lost his eyesight in a Palestinian suicide bombing; a Palestinian farmer whose pasture was divided by one of the walls being built around Israeli enclaves and an Israeli mother who lost her son in the conflict. As Dajani and Michaelis make their way through contemporary Israel and Palestine, they struggle to find lasting solutions to what many believe to be a never-ending conflict.

"Brilliant...This must-see film is, in the words of Dajani, 'a narrative not heard in the mass media,' and, added Michaelis, 'the story you havenít heard before.'" -Washington Report on Middle East Affairs

This film is available with a Digital Site License (DSL), which allows colleges, universities, or libraries to encode, locally host, and stream the film to their community on a closed, password-protected system.

Rental Information
This film is available from AFD for public screenings and television broadcast. For information regarding rental rates and formats, please contact [email protected] for institutional/non-theatrical screenings, or [email protected] for theatrical, festival, television, or other bookings.