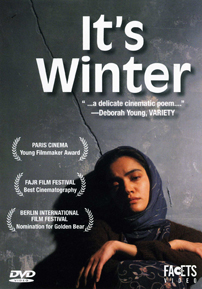 Type:


Feature Film





Director:


Rafi Pitts





Year:


2006





Time:


85 minutes





Written by:


Rafi Pitts





Language:


Farsi with English subtitles

Winner! — Young Filmmaker Award, Paris Cinema
Winner! — Best Cinematography, Fajr Film Festival
Nominated! — Golden Bear, Berlin International Film Festival

"An austerely beautiful parable." — The Guardian

"A delicate cinematic poem." — Variety



A year in the lives of three residents of Tehran, working to build better futures, shapes this compelling story of love and life. The year begins with the struggles of Mokhtar and his wife Khatoun, who barely scratch out a living on the outskirts of the city. Though he hates the thought of leaving his wife, Mokhtar goes in search of opportunities outside Iran. When he fails to return, Khatoun is left alone to take care of their daughter. Marhab, a heavy-machinery mechanic, spots Khatoun in the neighborhood and tries to win her affections. The year clicks by as misfortune, fate, and tragedy befall their everyday lives.

Moody cinematography of wintry landscapes highlights this award-winning film by newcomer Rafi Pitts, who boldly cast non-professionals in the starring roles. According to critic Jonathan Romney, "This is one seasonal film you can see without fear of encountering tap-dancing penguins or Jude Law in a cozy sweater...in any season, this Iranian gem would stand out as a terrific discovery."