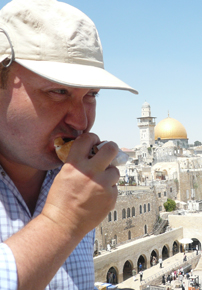 Type:


Documentary





Director:


Ari A. Cohen





Year:


2013





Time:


50 minutes





Produced by:


Ari A. Cohen





Written by:


Ari A. Cohen





Language:


Arabic, Hebrew, English with English subtitles

Falafelism follows the iconic Palestinian croquette made from ground chickpeas and fava beans as it rolls its way through world history, cultural identity, class struggle, and international politics. There is no doubt that the world enjoys this humble sandwich as a Middle Eastern food favorite but some Israelis now claim it as their own. What is the origin of this dish? What is the difference between the Egyptian Tamieh and the Palestinian Falafel? Who is winning the Falafel wars? Can this delicious yet humble sandwich bring people together or is it yet another example of Israeli appropriation of Palestinian food and culture? Filmed in North America, Europe and the Middle East, with leading scholars, restaurateurs, and everyday people, Falefelism tries to answer all these questions and more as filmmaker Ari Cohen gains 20 pounds in search of cultural coexistence between Israel and Palestine, Jews and Arabs.

Watch the Trailer:


This film is available with a Digital Site License (DSL), which allows colleges, universities, or libraries to encode, locally host, and stream the film to their community on a closed, password-protected system.

Rental Information
This film is available from AFD for public screenings and television broadcast. For information regarding rental rates and formats, please contact [email protected] for institutional/non-theatrical screenings, or [email protected] for theatrical, festival, television, or other bookings.