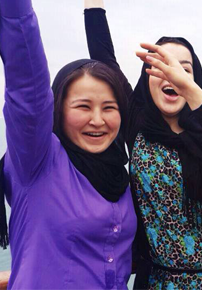 Type:


Documentary





Director:


Heidi Naguib





Year:


2015





Time:


26 minutes





Language:


English

Duniya, Rohila, Nabila, and Arghawan are four Afghan law students at Kabul University. The young women outperformed their male counterparts to be on Kabul University's first team to compete in the prestigious Willem C. Vis International Commercial Arbitration Court competition. Two American lawyers volunteer to help the young women meet this demanding challenge. The intensive training takes place online through Skype interactions but soon enough the team meet the trainers at the regional Pre-Moot Court competition in Doha, Qatar. Will the women be ready to represent their university, and their country, when they compete in the Vis Moot Court competition in Hong Kong? Afghan Dreams follows the journey of these women as they rise to face the challenge and represent their country at the world stage.

Watch the trailer:


This film is available with a Digital Site License (DSL), which allows colleges, universities, or libraries to encode, locally host, and stream the film to their community on a closed, password-protected system.

Rental Information
This film is available from AFD for public screenings and television broadcast. For information regarding rental rates and formats, please contact [email protected] for institutional/non-theatrical screenings, or [email protected] for theatrical, festival, television, or other bookings.