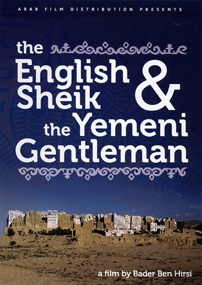 Type:


Documentary





Director:


Bader Ben Hirsi





Year:


2000





Time:


76 minutes





Language:


English and Arabic with English subtitles

"An unadulterated view of the true Yemen (with a) clarity and precision often lacking in or misinterpreted by foreign media."
- MSANews



This lyrical film introduces us to Bader Ben Hirsi, a British-born Yemeni living in London after his parents' exile from Yemen. Bader returns to Yemen to re-discover his country, its people and traditions.

Under the guiding hand of eccentric Englishman Tim Makintosh-Smith, who has been living as a Yemeni in the ancient city of Sana'a for the past 16 years, Ben Hirsi travels throughout his ancestral homeland.

Exquisitely filmed by award-winning cinematographer Koutaiba Al Janabi, The English Sheik and the Yemeni Gentleman chronicles their interaction and emerging friendship as they explore the beautiful Yemen countryside.

This film is available with a Digital Site License (DSL), which allows colleges, universities, or libraries to encode, locally host, and stream the film to their community on a closed, password-protected system.

Rental Information
This film is available from AFD for public screenings and television broadcast. For information regarding rental rates and formats, please contact [email protected] for institutional/non-theatrical screenings, or [email protected] for theatrical, festival, television, or other bookings.