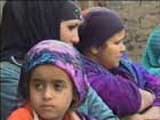 Type:
Documentary

Director:
Viola Shafik

Year:
1999

Time:
37 minutes

Language:
Arabic with English subtitles
Ordering Information
Available for online sale
Available for online sale
Although Female Genital Mutilation (FGM, the removal of the clitoris and often part or whole of the labia minora to ensure a woman's premarital and extra-marital chastity) is forbidden by law in Egypt and banned in public and private hospitals and clinics, official statistics show that nearly 96% of women in Egypt are still circumcised.

This controversial-yet-level-headed documentary examines why FGM is practiced, the reactions to it and its medical, historical, cultural and sexual significance – all from women's perspectives and in women's voices.

This film is available with a Digital Site License (DSL), which allows colleges, universities, or libraries to encode, locally host, and stream the film to their community on a closed, password-protected system.

Rental Information
This film is available from AFD for public screenings and television broadcast. For information regarding rental rates and formats, please contact [email protected] for institutional/non-theatrical screenings, or [email protected] for theatrical, festival, television, or other bookings.