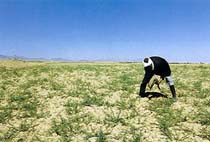 Type:
Documentary

Director:
Ebrahim Mokhtari

Year:
1992

Time:
40 minutes

Language:
Farsi with English subtitles
Ordering Information
Available for online sale
Available for online sale
Now available for the first time on DVD!



With a visually exuberant style evocative of Persian miniatures, this popular Iranian documentary provides a mesmeric account of a season's toil of saffron growers in Iran's eastern desert.

A peasant from the region leads us through the growth cycle, from the preparation of the soil to the time the saffron is sold at the market.

This film is available with a Digital Site License (DSL), which allows colleges, universities, or libraries to encode, locally host, and stream the film to their community on a closed, password-protected system.

Rental Information
This film is available from AFD for public screenings and television broadcast. For information regarding rental rates and formats, please contact

[email protected]

for institutional/non-theatrical screenings, or

[email protected]

for theatrical, festival, television, or other bookings.