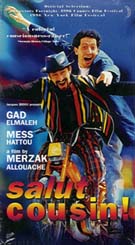 Type:
Feature Film

Director:
Merzak Allouache

Year:
1996

Time:
104 minutes

Language:
French and Arabic with English subtitles
Official Selection: Cannes Film Festival
Official Selection: New York Film Festival



"A warm and endearing picture." —Los Angeles Times

"A colorful consciousness-raiser!" —Georgia Brown, Village Voice

This film is currently out-of-print, but we do have one rare VHS copy available.
Salut Cousin! is the tale of two Algerian cousins and their mishaps in the racially volatile environment of Paris.
Mok is a would-be rap star living the high life in the city when his naive cousin, Alilo, arrives from Algeria on an errand. While Mok is desperately trying to reinvent himself in the modern world, his family is hopelessly tied to the past.
In this romantic film about the vitality of the big city and the pain of surviving it, director Merzak Allouache picks up where he left off with his previous film, Bab El-Oued City (1994), in which the protagonist leaves Algiers to make his way in Paris.