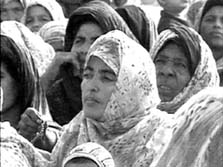 Type:
Documentary

Director:
Danielle Smith

Year:
1993

Time:
35 minutes

Language:
English
Ordering Information
Available for online sale
Available for online sale
Set in the Dakha refugee camp in Algeria, this critically acclaimed documentary tells the story of the 18-year-long struggle of the Sahrawi people to return to an independent homeland.

The film focuses on the inspiring leadership role the women play in running camp life. From sanitary conditions to the need for better education, the obstacles confronting these refugees are far from few. Yet this is a colorful and often inspirational tribute to the courageous women of the Western Sahara who are trying to prepare future generations for the way home.

Following the brutal 1975 Moroccan invasion and occupation of their North West African homeland, the majority of the Sahrawis became refugees. Song of Umm Dalaila captures the spirit of the Sahrawi people's two-decade-long struggle for freedom and peace.

It is a moving and inspiring account of a people's ability to rise from the debris of war and devastation, to rebuild their lives and communities in a harsh exile and to strive by will and imagination for a better future. By highlighting the experiences of the Sahrawi women, who make up 80% of the adult refugee population, Song of Umm Dalaila reveals how they came to assume primary responsibility for the survival of the refugees.

This film is available with a Digital Site License (DSL), which allows colleges, universities, or libraries to encode, locally host, and stream the film to their community on a closed, password-protected system.

Rental Information
This film is available from AFD for public screenings and television broadcast. For information regarding rental rates and formats, please contact [email protected] for institutional/non-theatrical screenings, or [email protected] for theatrical, festival, television, or other bookings.