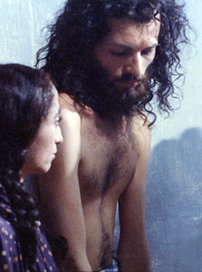 Type:
Feature Film

Director:
Moncef Dhouib

Year:
1992

Time:
95 minutes

Language:
Arabic with English subtitles
Winner: Special Jury Prize, 1993 Namur International Festival of French-Speaking Film

Ordering Information
Available for online sale
Available for online sale
Young Ramla is led to town by her parents to marry her cousin, Bab, who is imprisoned and to whom she has been promised since childhood. His mother Rabha, who rules the house, decides to lock the girl in her room until the wedding.

In her solitude, Ramla befriends Fraj, Rabha's other son. Ramla decides to escape with the help of Fraj, who is an enlightened but simple soul and knows all of the doors and pathways through the city.

During her escape, however, Ramla falls into the hands of Bab who abandons her, leaving everyone to think that the jenuns (spirits) have kidnapped Ramla; some even claim to have seen her flying through the sky.

This film is available with a Digital Site License (DSL), which allows colleges, universities, or libraries to encode, locally host, and stream the film to their community on a closed, password-protected system.

Rental Information
This film is available from AFD for public screenings and television broadcast. For information regarding rental rates and formats, please contact [email protected] for institutional/non-theatrical screenings, or [email protected] for theatrical, festival, television, or other bookings.