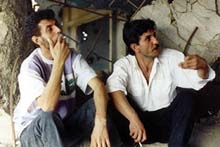 Type:
Documentary

Director:
Jean Khalil Chamoun and Mai Masri

Year:
1992

Time:
50 minutes

Language:
Arabic with English subtitles
"A powerful documentary." —The Guardian

Ordering Information
Available for online sale
Available for online sale
Filmmakers Jean Khalil Chamoun, from Lebanon, and Mai Masri, from Palestine, first met in 1982 and were married in 1986. They founded Nour Productions and have co-directed documentaries for international TV channels such as BBC, Channel 4, PBS, and Aljazeera Documentary Channel. For audiences around the world, the films of Mai Masri and Jean Chamoun have provided a glimpse into the everyday lives and struggles of people living in Palestine and Lebanon.

In Suspended Dreams, Jean Chamoun and Mai Masri link the stories of four people who are attempting to reconstruct their lives after Lebanon's long and devastating civil war. The film features two ex-militia fighters from Beirut; a woman searching for her missing husband; a playwright from southern Lebanon. Each share their lives and hardships amidst the rubble of their war-torn homeland.

This film is available with a Digital Site License (DSL), which allows colleges, universities, or libraries to encode, locally host, and stream the film to their community on a closed, password-protected system.

Rental Information
This film is available from AFD for public screenings and television broadcast. For information regarding rental rates and formats, please contact [email protected] for institutional/non-theatrical screenings, or [email protected] for theatrical, festival, television, or other bookings.