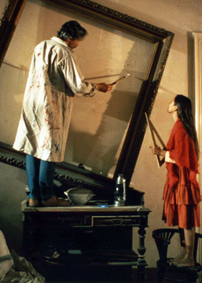 Type:
Feature Film

Director:
Jocelyne Saab

Year:
1984

Time:
90 minutes

Language:
Arabic with English subtitles
"An affecting love story between a thirteen year old girl and an older man." —Crossroads: The North Africa and Middle East Film Festival

Ordering Information
Available for online sale
Available for online sale
The first film shot in post-war Lebanon, A Suspended Life is set in Beirut ten years into the conflict.

Hala, a child of the war, finds relief from the chaos around her through Egyptian movies she watches on television. Karim, an artist in retreat from life, remains in his apartment in war-torn West Beirut, confident that he is safe in his familiar neighborhood. An unlikely bond is formed between the two as they face the devastating civil war.

A tale of poetic truth, A Suspended Life examines the ways in which war brings people together as well as tearing them apart. "I've invented places," writes director Jocelyne Saab, "as if by making a work of fiction about them, I could preserve them."

This film is available with a Digital Site License (DSL), which allows colleges, universities, or libraries to encode, locally host, and stream the film to their community on a closed, password-protected system.

Rental Information
This film is available from AFD for public screenings and television broadcast. For information regarding rental rates and formats, please contact [email protected] for institutional/non-theatrical screenings, or [email protected] for theatrical, festival, television, or other bookings.