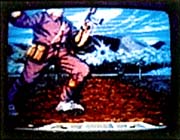 Type:
Documentary

Director:
Jayce Salloum

Year:
1994

Time:
48 minutes

Language:
English
". . .(A) provocative look at a problematized and constantly reconstructed Lebanon. . ." - Irina Leimbacher, San Francisco Cinematheque

Ordering Information
Available for online sale
Available for online sale
Over 200 hours of Hi-8, VHS and "found" film material were shot and collected in Lebanon during 1992. This project is Jayce Salloum's heroic attempt at making some sense out of that footage and its acquisition. It also sheds some light on the difficult, often impossible, process of making a film about Lebanon.

This film is available with a Digital Site License (DSL), which allows colleges, universities, or libraries to encode, locally host, and stream the film to their community on a closed, password-protected system.

Rental Information
This film is available from AFD for public screenings and television broadcast. For information regarding rental rates and formats, please contact [email protected] for institutional/non-theatrical screenings, or [email protected] for theatrical, festival, television, or other bookings.