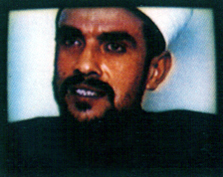 Type:
Documentary

Director:
Jayce Salloum and Walid Ra'ad

Year:
1993

Time:
60 minutes

Language:
Arabic with English subtitles
"Challenges and redefines one's perception of a country and its people and in the process examines the realities afforded by the documentary form." - Howard Aaron, Northwest Film Center

Ordering Information
Available for online sale
Available for online sale
Up to the South explores the Israeli occupation of Southern Lebanon and the powerful resistance to this occupation. It also examines several popular discursive notions such as "the land," "culture," and "identity" in relation to both the East and the West.

Discussions on "terrorism," "occupation," "colonialism," "post-colonialism," "truth," "myths," and "martyrdom" provide an excellent opportunity for a parallel critique of the documentary genre as well as the West's production of information about the region.

This film is available with a Digital Site License (DSL), which allows colleges, universities, or libraries to encode, locally host, and stream the film to their community on a closed, password-protected system.

Rental Information
This film is available from AFD for public screenings and television broadcast. For information regarding rental rates and formats, please contact [email protected] for institutional/non-theatrical screenings, or [email protected] for theatrical, festival, television, or other bookings.