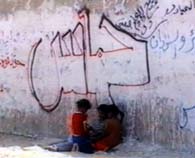 Type:
Documentary

Director:
Hanna Musleh

Year:
1993

Time:
52 minutes

Language:
Arabic with English Subtitles
"The ethnographic approach. . .adds great credibility to the film and allows a fresh perspective on the subject matter." - Jerusalem Newspaper

Ordering Information
Available for online sale
Available for online sale
We are God's Soldiers takes the viewer on an unprecedented trip inside the Islamic movement in the Gaza Strip. The film includes interviews with some of the Hamas leaders who have since been expelled by Israel.

The internal factions among the Palestinians are reflected in the story of two brothers: Islam is a veteran supporter of the PLO's Fatah while his brother, Ziad, is a supporter of the Islamic movement.

This film is available with a Digital Site License (DSL), which allows colleges, universities, or libraries to encode, locally host, and stream the film to their community on a closed, password-protected system.

Rental Information
This film is available from AFD for public screenings and television broadcast. For information regarding rental rates and formats, please contact [email protected] for institutional/non-theatrical screenings, or [email protected] for theatrical, festival, television, or other bookings.