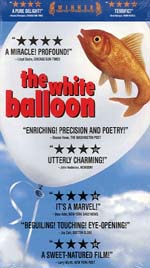 Type:
Feature Film

Director:
Jafar Panahi

Year:
1995

Time:
85 minutes

Language:
Farsi with English subtitles
Winner:
—Camera d'Or, Cannes Film Festival
—International Jury Award, São Paulo International Film Festival
—Gold Award, Tokyo International Film Festival



"A pure delight!" —Michael Wilmington, Chicago Sun Times

"Enriching! Precision and poetry!" —Desson Howe, Washington Post

Ordering Information
Available for online sale
This film is currently out-of-print, but we do have one rare VHS copy available.
A young girl's desire for a pretty goldfish her family cannot afford sparks an adventure in this wonderfully charming film, which won the Camera d'Or (best first film) at the 1995 Cannes Film Festival.
With the shops about to close for the New Year holiday in Tehran, seven-year-old Razieh pleads with her mother to buy a big goldfish she has seen at the pet store. Razieh's brother, Ali, persuades their mother to give in and, with the family's last bank note in hand, Razieh gleefully sets out to buy her fish.
But along the way she meets up with snake charmers, a balloon salesman and a dry cleaner owner who tempt her away from her money. With the help of her brother, she desperately tries to retrieve her money, buy the fish and get home before her parents find out what's happened.