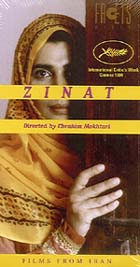 Type:
Feature Film

Director:
Ebrahim Mokhtari

Year:
1994

Time:
88 minutes

Language:
Farsi with English subtitles
This film is currently out-of-print.
Zinat runs a health clinic in a remote part of Southern Iran where she dispenses advice, medicine and baby formula. Although it is unusual in her conservative village for a young, unmarried woman to have such a position, Zinat's expertise and hard work make her invaluable to the community.
When Zinat becomes engaged to Hamed, his disagreeable mother demands that she quit her job. Zinat tries to be a satisfied wife and daughter-in-law, but when a medical emergency develops in the village, she is forced to choose between her duty to her family and her commitment as a health care provider.