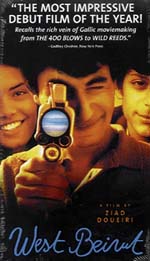 Type:
Feature Film

Director:
Zaid Doueiri

Year:
1998

Time:
105 minutes

Language:
Arabic and French with English subtitles
Winner! — Critics Award, Toronto International Film Festival
Winner! — Directors Fortnight, Cannes Film Festival



"Much like Benigni did in Life Is Beautiful, Doueiri relies on humor to turn tragedy, violence and despair into a wide-reaching and enchanting piece of cinema." - Nana Asfour, Cineaste

Ordering Information
Available for online sale
This title is currently out-of-print, but we have one rare VHS copy available until sold.
Beirut, April 13, 1975: First official day of the Lebanese Civil War. The passengers of a Palestinian bus are massacred by the militia in front of Tarek and Omar, two teenagers who live in West Beirut, the Muslim section of the city. The Christians control East Beirut and this geographical division symbolizes a country and people now torn apart.
Since their school has closed, Tarek and Omar are determined to have fun, pretending to ignore the tragedy unfolding before their eyes. Together with May, a young Christian girl from their neighborhood who wins the two friends over with her charms, they hang out in the city and its streets, looking for adventure. They become friendly with the neighbors, shopkeepers and militia and use a Super 8 camera to film what they see, turning the battlefield into a sort of playground.
Omar and Tarek live through this first year of the war unconcerned, engrossed in their first love affair. But as they are gradually drawn into the escalating violence that surrounds them, their carefree adolescence comes to an abrupt and startling end.