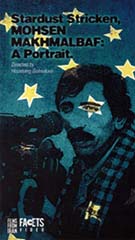 Type:
Documentary

Director:
Houshang Golmakani

Year:
1996

Time:
70 minutes

Language:
Farsi with English subtitles
This film is currently out-of-print.
This video documentary provides the perfect introduction to the early life and works of Mohsen Makhmalbaf, a controversial filmmaker (Marriage of the Blessed, The Actor) whose career development is unprecedented in Iranian cinema.
After being jailed for several years for clandestine political activity, Makhmalbaf left direct political activity in order to embrace literature and cinema. Although he started off as a fundamentalist artist and filmmaker, his views have evolved tremendously.
In this portrait, produced by the respected Iranian film critic Houshang Golmakani, Mohsen Makhmalbaf speaks about his life, childhood, political and cultural activities, his style, and his beliefs about art, cinema, violence, kindness, God, religion and death.