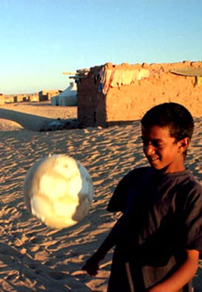 Type:
Documentary

Director:
Danielle Smith

Year:
1999

Time:
45 minutes

Language:
English and Arabic with English subtitles
Official Selection: 2005 Leeds International Film Festival


Ordering Information
Available for online sale
Available for online sale
Nearly 200,000 Saharawi refugees live in the barren desert of southwestern Algeria. A former nomadic society, the Saharawis, who have been under Spanish colonial rule for 90 years, were forced to flee their homeland when Morocco was invaded in 1975. Against all odds, they have sought to keep their culture alive while carrying on their fight to gain the independence of Western Sahara, the last colony in Africa.

Through the lives and works of poets, singers and painters, Beat of Distant Hearts explores their collective experience of exile, loss and war and offers insight into how these art forms have played a role in the ongoing struggle.

This film is available with a Digital Site License (DSL), which allows colleges, universities, or libraries to encode, locally host, and stream the film to their community on a closed, password-protected system.

Rental Information
This film is available from AFD for public screenings and television broadcast. For information regarding rental rates and formats, please contact [email protected] for institutional/non-theatrical screenings, or [email protected] for theatrical, festival, television, or other bookings.