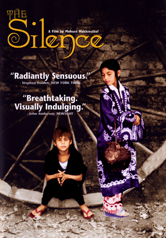 Type:
Feature Film

Director:
Mohsen Makhmalbaf

Year:
1998

Time:
75 minutes

Language:
Farsi with English subtitles
"A fascinating, gorgeous film. One stunning, beautifully composed image follows another."
—Jonathan Foreman, New York Post

Ordering Information
Available for online sale
From acclaimed director Mohsen Makhmalbaf, The Silence follows the life of Khorshid, a blind ten-year-old boy who experiences the world through sound. Living with his mother in a small village in Tajikistan, Khorshid earns money tuning musical instruments.

Nadereh, the beautiful young protegee of the instrument maker for whom Khorshid works, acts as his eyes, fetching him every day at the bus stop and leading him through the streets to his destination. Sometimes on the way, a conversation or melody attracts Horshid's attention and he loses himself in the compelling harmonies of the city and everyday life.

About to lose his job and his home, Khorshid creates a world where he can be happy; where hypnotic sounds and the music of the world fill his life with joy.