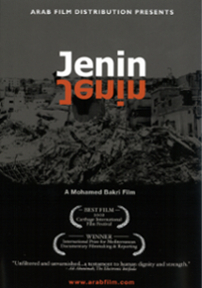 Type:
Documentary

Director:
Mohammad Bakri

Year:
2002

Time:
54 minutes

Produced by:
Iyad Samudi and Mohamed Bakri

Written by:
Mohammad Bakri

Edited by:
Leandro Pantanella

Language:
Arabic with English subtitles
Winner! Best Film — Carthage International Film Festival

Winner! International Prize for Mediterranean Documentary Filmmaking & Reporting



"Unfiltered and unvarnished...a testament to human dignity and strength." —Ali Abunimah, The Electronic Intifada

Ordering Information
Available for online sale
Available for online sale
"Where is God," an elderly man desperately wonders when surveying the debris in the Palestinian refugee camp Jenin.

Directed and co-produced by Palestinian actor Mohammad Bakri, Jenin Jenin includes testimony from Jenin residents after the Israeli army's Defensive Wall operation. The city and camp were the scenes of fierce fighting which ended with Jenin flattened and scores of Palestinians dead. Palestinians as well as numerous human rights groups accused Israel of committing war crimes in the attack. The United Nations appointed a commission of inquiry, but Israel refused to let its members visit the scene.

Banned in Israel, Jenin Jenin is dedicated to Iyad Samudi, the producer of the film, who returned home to Yamun after the shooting of the film was completed. On June 23, as Israeli forces besieged Yamun, Samudi was shot and killed as he was leaving a militarily-closed area with three friends.

This film is available with a Digital Site License (DSL), which allows colleges, universities, or libraries to encode, locally host, and stream the film to their community on a closed, password-protected system.

Rental Information
This film is available from AFD for public screenings and television broadcast. For information regarding rental rates and formats, please contact [email protected] for institutional/non-theatrical screenings, or [email protected] for theatrical, festival, television, or other bookings.