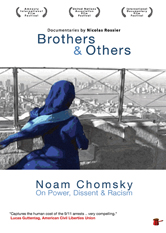 Type:
Documentary

Director:
Nicolas Rossier

Year:
2002

Time:
104 minutes

Produced by:
Baraka Productions, Nicolas Rossier, Trilby MacDonald

Edited by:
Ryan Deussing

Language:
English
Official Selection!
- International Documentary Film Festival Amsterdam, 2003

Official Selection!
- United Nations Association Film Festival, 2003



"Highly recommended. . . gives a very moving glimpse into the lives of Muslims living in America. . . "
- Educational Media Reviews

". . . documents the quiet tragedies of immigrant hopes devastated by 9/11. . . "
- Al Jadid Magazine

Ordering Information
Available for online sale
Available for online sale
Available for online sale
Brothers & Others

By presenting interviews with government officials, legal experts and historians, Brothers and Others examines the plight of Muslims and Arabs in the United States during the aftermath of the 9/11 tragedy. The film follows several individuals and families as they are forced to confront the heightened climate of distrust, rigorous F.B.I. and I.N.S. investigations and economic hardships that swept across the country following the attacks. A riveting historical document, Brothers and Others vividly illustrates how fear and paranoia can result in the passage of reactionary governmental policies that compromise civil liberties and endanger the human rights of immigrants and citizens for years to come.

Noam Chomsky: On Power, Dissent & Racism

With rigorous analysis and humor, professor Noam Chomsky (Manufacturing Consent) presents his reflections on the motivations behind the terror attacks of 09/11/2001 and its consequences on the international system. Chomsky defines the notion of terrorism within its historical context and gives his thoughts on how we should fight it without exercising the politics of power. Also presented are Chomsky's personal perspectives on the role of the media in the war on terrorism, his views on racism against Arabs and Muslims and much more.

Avram Noam Chomsky is an American linguist, philosopher, political activist, author and lecturer. He is an Institute Professor Emeritus of Linguistics at the Massachusetts Institute of Technology. Well known in the academic and scientific community as the father of modern linguistics and since the 1960s, Chomsky has become widely known as a political dissident and activist. In the period from 1980-1992, he was cited more than any other living scholar. He has received awards and honorary degrees from more than 50 institutions worldwide and has published numerous books in his 40-year career as an author.

"It reminds us of the need to balance our desire for security with an equal concern for the rule of the law and civil liberties which make America the great nation that it is." - John Esposito, Author of Islamic Threat: Myth or Reality

Read more reviews of this film: Washington Report on Middle East Affairs, Jan/Feb 2005
Aljadid Magazine, Fall 2004
Educational Media Reviews Online, July 2004

To learn more about the filmmakers, please visit their website, www.barakaproductions.com

This film is available with a Digital Site License (DSL), which allows colleges, universities, or libraries to encode, locally host, and stream the film to their community on a closed, password-protected system.

Rental Information
This film is available from AFD for public screenings and television broadcast. For information regarding rental rates and formats, please contact [email protected] for institutional/non-theatrical screenings, or [email protected] for theatrical, festival, television, or other bookings.