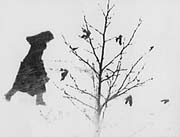 Type:
Short Film

Director:
Seifollah Samadian

Year:
1999

Time:
9 minutes

Language:
No dialogue
Featured in the 2001 Thessalonki Documentary Film Festival

Ordering Information
Available for online sale
Available for online sale
Filmed entirely from an apartment window, Seifollah Samadian's short film focuses on a woman who braves an unprecedented Tehran snowstorm in order to use public transportation.

The simplicity of the action and motivation soon dissolve into a profound statement on the human condition. It's no wonder director Abbas Kiarostami regards this short as one of his favorite documentaries.

This video also includes Deadtime and Tehran: The 25th Hour.

This film is available with a Digital Site License (DSL), which allows colleges, universities, or libraries to encode, locally host, and stream the film to their community on a closed, password-protected system.

Rental Information
This film is available from AFD for public screenings and television broadcast. For information regarding rental rates and formats, please contact [email protected] for institutional/non-theatrical screenings, or [email protected] for theatrical, festival, television, or other bookings.