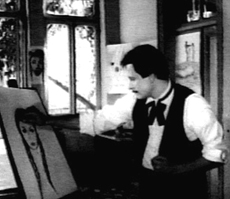 Type:
Feature Film

Director:
Yousef Malouf

Year:
1962

Time:
90 minutes

Language:
Arabic with English subtitles
"To come upon this film is like opening a long-buried treasure chest, and its wealth should be shared with as many people as possible." - Phil Hall, Film Threat Magazine

Ordering Information
Available for online sale
Available for online sale
Lebanese artist/poet Khalil Gibran reveals the same artistry and wisdom that have enshrined his name in the hearts of millions. With great sensitivity and lyricism, Gibran describes his youthful passion for his first love, Selma Karamy, the beautiful girl from Beirut. But theirs was a love doomed from the beginning: Social conventions and family tensions eventually force Selma to marry another man.

American audiences got their first taste of this sensitive adaptation in the late sixties. Since then, all film prints were lost or destroyed ...only to be recovered recently in a church in Beirut. The Broken Wings is a film of great historical and artistic value.

Please note: The film print of this film was lost during the war and recovered years later in an abandoned church in Lebanon. The AFD video master was made from this restored print. Please expect the quality of your copy to reflect this film's unique history.

This film is available with a Digital Site License (DSL), which allows colleges, universities, or libraries to encode, locally host, and stream the film to their community on a closed, password-protected system.

Rental Information
This film is available from AFD for public screenings and television broadcast. For information regarding rental rates and formats, please contact info@arabfilm.com for institutional/non-theatrical screenings, or info@arabfilm.com for theatrical, festival, television, or other bookings.