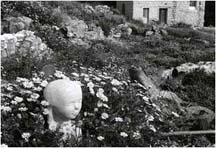 Type:
Documentary

Director:
Rachel Leah Jones

Year:
2002

Time:
48 minutes

Produced by:
RLJ Productions (USA) and Momento! (France)

Language:
Arabic and Hebrew with English subtitles
Official Selection!
— Human Rights Watch International Film Festival

Official Selection!
— Cinematexas Film Festival



"Presenting a distaff point-of-view on the longstanding controversy between Arabs and Israelis regarding Middle East land rights, this film is highly recommended."
—Video Librarian

Ordering Information
Available for online sale
Available for online sale
The Palestinian village Ayn Hawd was captured and depopulated by Israeli forces in the 1948 war. In 1953, Marcel Janco, a Romanian painter and a founder of the Dada movement, helped transform the village into a Jewish artist colony, renaming the town Ein Hod.

500 Dunam on the Moon tells the story of the village's original inhabitants, who, after expulsion, settled only 1.5 kilometers away from the town in the outlying hills.

This new Ayn Hawd where the town's original inhabitants have settled cannot be found on official maps, as Israeli law doesn't recognize it, and its residents, deemed "present absentees" by the authorities, do not receive basic services such as water, electricity, or an access road. Filmmaker Rachel Leah Jones' documentary debut takes a critical look at the art of dispossession and the creativity of the dispossessed in the Palestinian-Israeli conflict.

This film is available with a Digital Site License (DSL), which allows colleges, universities, or libraries to encode, locally host, and stream the film to their community on a closed, password-protected system.

Rental Information
This film is available from AFD for public screenings and television broadcast. For information regarding rental rates and formats, please contact [email protected] for institutional/non-theatrical screenings, or [email protected] for theatrical, festival, television, or other bookings.