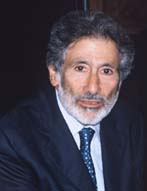 Type:
Documentary

Director:
Emmanuel Hamon

Year:
2003

Time:
54 minutes

Produced by:
Wamip Films

Language:
In English
Official Selection — Singapore International Film Festival
Official Selection — Vancouver International Film Festival

Ordering Information
Available for online sale
Available for online sale
Known as one of America's great contemporary intellectuals and a prominent spokesperson for the Palestinian cause in the United States, Said died in September of 2003 at the age of 67.

Shortly before is death, a French film crew spent several weeks with him and his family. The result is Selves and Others, an intimate documentary that offers a glimpse at some of Said's final reflections on the themes that dominated his life's work.

Reviews:

"A nearly constant stream of talk, Selves and Others nevertheless succeeds as filmmaking. Picking up on an early Said comment extolling New York as a place of constant change and transition, director Emmanuel Hamon periodically inserts brief interludes of the city's sights and sounds. These simple shots of people and cars in motion celebrate New York as the embodiment of Said's ideals of flux and mutability."
—The Village Voice

"Selves and Others allows the highly articulate Said, a professor at Columbia University and an outspoken advocate of a Palestinian homeland, to lay out his views without the help of an on-screen interlocutor. Sitting at his desk at Columbia or in his study at home, Said offers a concise summary of his thought, with an emphasis on his most influential book, 'Orientalism'."
—New York Times[email protected]

This film is available with a Digital Site License (DSL), which allows colleges, universities, or libraries to encode, locally host, and stream the film to their community on a closed, password-protected system.

Rental Information
This film is available from AFD for public screenings and television broadcast. For information regarding rental rates and formats, please contact [email protected] for institutional/non-theatrical screenings, or [email protected] for theatrical, festival, television, or other bookings.