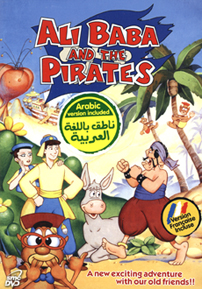 Type:
Feature Film

Director:
Zlata Potancokova Belli

Year:
1996

Time:
80 minutes

Language:
DVD spoken language options: Arabic, English or French. No subtitles.
Ordering Information
Available for online sale
When Ali Baba and his young sister set sail on the Sultan's magnificent ship to find their long lost father and brother, a huge storm plagues their voyage, sending them crashing into a remote island. Having survived the shipwreck, Ali and his crew set out on foot to search for food and shelter.
To everyone's surprise, they find Ali's brother living on the island with a group of four-handed Pygmies who offer to help them repair their ship and leave the island. On the high seas once again in search for their father, Ali, his sister, and their crew encounter a wish-granting genie, a band of shipwrecked pirates, and other strange characters who turn their voyage into an exciting and amusing adventure for audiences of all ages to enjoy.