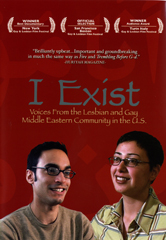 Type:
Documentary

Director:
Peter Barbosa and Garrett Lenoir

Year:
2003

Time:
57 minutes

Language:
In English (w/ optional Arabic subtitles)
Winner — Best Documentary, NY Lesbian and Gay Film Festival



"Brilliantly upbeat. . . important and groundbreaking in much the same way as Fire and Trembling Before G-d." —Huriyah Magazine

Ordering Information
Available for online sale
Available for online sale
Available for online sale
Directed by Peter Barbosa and Garrett Lenoir, I Exist is a groundbreaking documentary that gives voice to a group that has long remained silent out of shame and fear of ostracism.

Gay and Lesbian Middle Easterners who live in the United States must frequently combat the negative stereotypes revolving around both their sexuality and their race. This award-winning film features interviews with a variety of young men, women and their family members who share with viewers some of the experiences, joys and sorrows of this diverse community.

This film is available with a Digital Site License (DSL), which allows colleges, universities, or libraries to encode, locally host, and stream the film to their community on a closed, password-protected system.

Rental Information
This film is available from AFD for public screenings and television broadcast. For information regarding rental rates and formats, please contact [email protected] for institutional/non-theatrical screenings, or [email protected] for theatrical, festival, television, or other bookings.