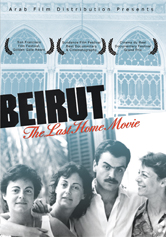 Type:
Documentary

Director:
Jennifer Fox

Year:
1988

Time:
125 minutes

Produced by:
Zohe Films

Language:
English, French & Arabic with English subtitles
Winner! Grand Jury Prize, Best Documentary
— Sundance Film Festival, 1988

Winner! Cinematography Award
— Sundance, 1988

Winner! Grand Prix
— Cinema du Reel



"A documentary with the expansiveness and complexity of great fiction. . . it takes great guts to attempt an audacious feat like this one, and something like genius to pull it off." —Washington Post

Ordering Information
Available for online sale
Available for online sale
Available for online sale
Fascinated by stories of the aristocratic Bustros family, who remained in their large 19th century mansion in the mostly deserted downtown section of Beirut during the Lebanese Civil War, director Jennifer Fox (Flying: Confessions Of A Free Woman, An American Love Story) leaves N.Y.U. film school to document her good friend Gabby Bustros' return to her family home. Filming everything from an auto race to an elaborate family wedding, from a festive costume party to a group sailboat outing, Beirut: The Last Home Movie offers an intimate profile of the Bustros family's attempts to maintain their upper-class lifestyle as the devastating civil war rages all around them.

Filmed and edited in a narrative style, Fox's documentary was an official entry at more than twenty prestigious film festivals world-wide and is the winner of seven international awards, including the Grand Jury Prize for Best Documentary at the Sundance Film Festival. Following its U.S. theatrical release, Beirut: The Last Home Movie was broadcast as a PBS Frontline Special in 1991.

DVD Special Features
The Seduction of War: A conversation With Jennifer Fox, a 59-minute documentary from 2006 that chronicles director Jennifer Fox's discussion on the making of Beirut: The Last Home Movie with a group of filmmakers in Copenhagen
New digital transfer from the original film elements

This film is available with a Digital Site License (DSL), which allows colleges, universities, or libraries to encode, locally host, and stream the film to their community on a closed, password-protected system.

Rental Information
This film is available from AFD for public screenings and television broadcast. For information regarding rental rates and formats, please contact

[email protected]

for institutional/non-theatrical screenings, or

[email protected]

for theatrical, festival, television, or other bookings.