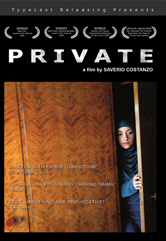 Type:
Feature Film

Director:
Saverio Costanzo

Year:
2004

Time:
90 minutes

Produced by:
Mario Gianani

Written by:
Saverio Costanzo, Sayed Qashua Camilla Costanzo and Alessio Cremonini

Edited by:
Francesca Calvelli

Language:
English, Arabic and Hebrew with English subtitles
Winner! FIPRESCI Jury Award
- The Intl. Fed. of Film Critics

Winner! Golden Leopard Award, Best Director
- Locarno Film Festival

Winner! Bronze Leopard Award, Best Actor, Mohammed Bakri
- Locarno Film Festiva



". . . acted with fierce conviction"
- Village Voice
". . . captures [war's] harrowing complexities with unerring accuracy"
- Toronto Int'l Film Festival
". . . an effectively didactic thriller"
- Philadelphia Inquirer

Ordering Information
Available for online sale
Available for online sale
Available for online sale
Inspired by real events, documentary filmmaker Saverio Costanzo's feature debut is a minimalist psychological drama about a Palestinian family of seven suddenly confronted with a volatile situation in their home that in many ways reflects the larger ongoing conflict between Palestine and Israel.

Winner of a Golden Leopard at the Locarno Film Festival, Private is convincingly shot in a documentary style with a hand-held camera and a quick pace. Director Costanzo has created a unique occasion for both Israeli and Palestinian actors to work together, and being an outsider himself, he has worked to maintain a neutral standpoint while dramatizing the conflict.

Visit the official website at www.typecastfilms.com/private

Official Selection of the 2005 Vancouver International Film Festival and San Francisco International Film Festival

This film is available with a Digital Site License (DSL), which allows colleges, universities, or libraries to encode, locally host, and stream the film to their community on a closed, password-protected system.

Rental Information
This film is available from AFD for public screenings and television broadcast. For information regarding rental rates and formats, please contact [email protected] for institutional/non-theatrical screenings, or [email protected] for theatrical, festival, television, or other bookings.