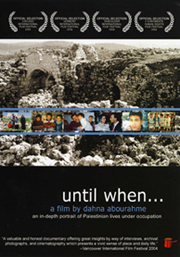 Type:
Documentary

Director:
Dahna Abourahme

Year:
2004

Time:
76 minutes

Produced by:
Annemarie Jacir

Edited by:
Dahna Abourahme

Language:
In Arabic with English subtitles
"In subtle, pivotal moments, people reveal that the journey of Palestinian struggle leads to the heart...The artistic effect reinforces what the people express in words and the aesthetic creation is flawless." --Scoop Magazine


Ordering Information
Available for online sale
Available for online sale
Available for online sale
Set during the current Intifada, this documentary follows four Palestinian families living in Dheisheh Refugee Camp near Bethlehem.

Fadi is 13 and cares for his 4 younger brothers, the Hammashes are a close-knit family who pass on the lessons of life with humor and passion, Sana is a single woman who endures long commutes to do community work, and Emad and Hanan are a young couple trying to shield their daughter from the harsh realities of the occupation. They talk about their past and discuss the future with humor, sorrow, frustration and hope.

Until When paints an intimate in-depth portrait of Palestinian lives today.

"Remaining unashamedly Palestinian and independent in its point of view, this is a valuable and honest documentary offering great insights by way of interviews, archival photographs, and cinematography which presents a vivid sense of place and daily life." Vancouver Int'l Film Festival

Official Selection
2005 Somewhat-North-Of-Boston (S.N.O.B.) Film Festival
2005 Yamagata Documentary Film Fest
2005 Delta Film Festival
2005 Chicago Int'l Documentary Festival
2004 Vancouver International Film Festival
2004 Three Continents Human Rights Fest

Please visit the film's official website for a complete list of past screenings and production details.

This film is available with a Digital Site License (DSL), which allows colleges, universities, or libraries to encode, locally host, and stream the film to their community on a closed, password-protected system.

Rental Information
This film is available from AFD for public screenings and television broadcast. For information regarding rental rates and formats, please contact [email protected] for institutional/non-theatrical screenings, or [email protected] for theatrical, festival, television, or other bookings.
Home | Our Catalog | Film Festivals | Order Info | FAQ | About Us | Contact Us