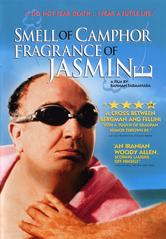 Type:
Feature Film

Director:
Bahman Farmanara

Year:
2000

Time:
93 minutes

Written by:
Bahman Farmanara

Language:
In Farsi with English subtitles
Winner! — FIPRESCI Prize, Istanbul International Film Festival
Winner! — Special Grand Jury Prize, Montréal World Film Festival



"Fascinating and Entertaining!" —Chicago Reader

"A humorously death-haunted psychodrama." —The Village Voice

Ordering Information
Available for online sale
Only 1 DVD copy available for sale! This film is currently out-of-print.
In this audacious black comedy, Bahman Farjami, a filmmaker who has not directed for twenty years due to censorship, experiences a strange set of coincidences that convince him that the Angel of Death must be near. As a means of confronting his fears, he decides to make a film about his own funeral.
As he researches the funeral rites of his country and culture, Farjami glimpses a side of Iranian society which he was not aware of. In the midst of this, his view is shaded by his own mounting family problems. Through a series of fiascos leading to a comic and cathartic vision of his own disastrous funeral, he goes on an emotional roller-coaster ride that culminates in a Fellini-esque dream so intense that it may lead to his actual death.