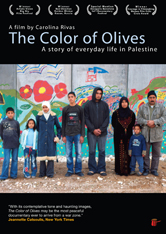 Type:
Documentary

Director:
Carolina Rivas

Year:
2006

Time:
97 minutes

Produced by:
Daoud Sarhandi

Edited by:
Daoud Sarhandi

Language:
Arabic with options for English, Spanish, Arabic, Hebrew, French or German subtitles
Winner! Artistic Vision Award
- Big Sky Documentary Film Festival

Winner! Women Film Critic's Courage In Filmmaking Award

Special Mention! Barcelona Docúpolis



"With its contemplative tone and haunting images, The Color of Olives may be the most peaceful documentary ever to arrive from a war zone."
- New York Times

Ordering Information
Available for online sale
Available for online sale
Available for online sale
From Mexican director Carolina Rivas and cinematographer Daoud Sarhandi comes this elegant and visually breathtaking new film about the Palestinian experience. The Amer family lives surrounded by the infamous West Bank Wall, where their daily lives are dominated by electrified fences, locked gates and a constant swarm of armed soldiers.

This unique and intimate documentary shares their private world, allowing a glimpse of the constant struggles and the small, endearing details that sustain them. The Color Of Olives is an artistic and beautifully affecting reflection on the effects of racial segregation, the meaning of borders and the absurdity of war.

More information and complete list of festival screenings available at The Color of Olives


This film is available with a Digital Site License (DSL), which allows colleges, universities, or libraries to encode, locally host, and stream the film to their community on a closed, password-protected system.

Rental Information
This film is available from AFD for public screenings and television broadcast. For information regarding rental rates and formats, please contact [email protected] for institutional/non-theatrical screenings, or [email protected] for theatrical, festival, television, or other bookings.