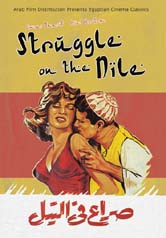 Type:
Feature Film

Director:
Atef Salem

Year:
1959

Time:
120 minutes

Language:
Arabic with English or French subtitles
Ordering Information
Available for online sale
Available for online sale
Available for online sale
Three years before Lawrence Of Arabia made him an international sensation, dashing Egyptian actor Omar Sharif starred in this wonderful masterpiece of Egyptian cinema that has been virtually unseen in the US since its release in 1959.

Sharif plays naïve young Muhasab, who is asked to accompany his more dependable friend, Mujahed, on a voyage up the Nile to Cairo. Once there, they will sell their boat, the "Bride of the Nile," in order to buy a barge that will make their village elders more competitive in business and trade. But a ruthless business rival is determined to see that the men never reach Cairo. Matters become even more complicated when Nargis, a scheming carnival dancer (played by the beautiful Hind Rostom), is discovered hiding out in the cargo hold of the "Bride of the Nile."

Sensual and atmospheric, Struggle On The Nile draws inspiration from the best European cinema of the era, while still remaining true to Egyptian cinematic traditions and locales.

DVD Special Features

Digitally remastered picture and sound
English and French subtitles
Scene access
Promotional material
Filmographies
Director Atef Salem Remembers (Arabic language only)


This film is available with a Digital Site License (DSL), which allows colleges, universities, or libraries to encode, locally host, and stream the film to their community on a closed, password-protected system.

Rental Information
This film is available from AFD for public screenings and television broadcast. For information regarding rental rates and formats, please contact

[email protected]

for institutional/non-theatrical screenings, or

[email protected]

for theatrical, festival, television, or other bookings.