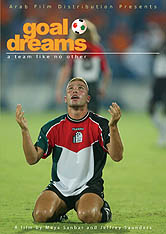 Type:
Documentary

Director:
Maya Sanbar and Jeffrey Saunders

Year:
2006

Time:
84 minutes

Produced by:
Maya Sanbar & Jeffrey Saunders

Edited by:
Richard Lowe and Matyas Veress

Language:
English & Arabic with English subtitles
". . . a testament to the power of the Palestinian dream and to the Palestinian people. . . "
- Lena Tuffaha, Electronic Intifada

"[Goal Dreams] will capture, break and embolden your heart."
- Michelle Schaefer, Feminist Review

Ordering Information
Available for online sale
Available for online sale
Available for online sale
Goal Dreams focuses on national and personal identity as experienced by a sports team like none other before.

How can a team without a recognized homeland, no permanent domestic league, no place to train and with players and coaches scattered around the globe compete in the world of modern football? Founded in 1928, the Palestinian Football Association (PFA) is considered one of the oldest football associations in the Arab World. Since being recognized by FIFA in 1998, the team has risen 70 places in the international rankings, despite never having been able to play on home soil.

Following the team as they prepare for the 2006 World Cup, Goal Dreams chronicles the suspension of domestic league games after an Israel air strike on Palestine Stadium, while Austrian coach Alfred Riedle makes a heroic effort to mold players from diverse countries such as the USA, Chile, Palestine and Lebanon into a national team unlike any other.

DVD Features:
Aspect ratio: 1.78:1 (16x9)
Theatrical trailer
Additional features following the team.

This film is available with a Digital Site License (DSL), which allows colleges, universities, or libraries to encode, locally host, and stream the film to their community on a closed, password-protected system.

Rental Information
This film is available from AFD for public screenings and television broadcast. For information regarding rental rates and formats, please contact [email protected] for institutional/non-theatrical screenings, or [email protected] for theatrical, festival, television, or other bookings.