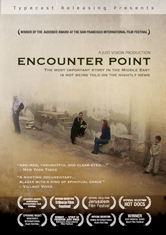 Type:
Documentary

Director:
Ronit Avni (Director) & Julia Bacha (Co-Director)

Year:
2006

Time:
85 minutes

Produced by:
Ronit Avni, Joline Makhlouf & Nahanni Rous

Written by:
Julia Bacha

Edited by:
Julia Bacha

Language:
Arabic, English & Hebrew w/ Arabic, English, French, Hebrew or Portuguese subtitles
Winner — Best Documentary Audience Award, Rencontres Film Festival
Winner — Best Documentary Audience Award, San Francisco International Film Festival



"Assured, thoughtful and clear-eyed." —New York Times
"A riveting documentary. . . blazes with a kind of spiritual grace." —Village Voice

Ordering Information
Available for online sale
Available for online sale
Available for online sale
Available for online sale
Available for online sale
Classroom-friendly 52-minute version now available!

Just when the world is losing hope for the possibility of resolving the Palestinian-Israeli conflict comes Encounter Point. Created by a Palestinian, Israeli, North and South American team, Encounter Point moves beyond sensational and dogmatic imagery to tell the story of an Israeli settler, a Palestinian ex-prisoner, a bereaved Israeli mother and a wounded Palestinian bereaved brother who risk their safety and public standing to press for an end to the conflict. They are at the vanguard of a movement to push Palestinian and Israeli societies to a tipping point, forging a new consensus for nonviolence and peace. Perhaps years from now, their actions will be recognized as a catalyst for constructive change in the region. Encounter Point is a film about hope, true courage and implicitly about the silence of journalists and politicians who pay little attention to vital grassroots peace efforts.

Encounter Point's Israeli/Palestinian/North American/ Brazilian production team of young women includes: director & producer Ronit Avni (formerly of WITNESS), co-director Julia Bacha (co-writer/editor of the award-winning documentary Control Room), producers Nahanni Rous and Joline Makhlouf, the first Palestinian female pilot. Encounter Point was edited in Jerusalem and Park Slope, Brooklyn, and features original music by Kareem Roustom, who combines classical Arabic melodies and instruments with traditional Jewish Klezmer to form a harmonious fusion that mirrors the subject matter.

Encounter Point's World Premiere was at the 2006 Tribeca Film Festival. The Canadian premiere was at Hot Docs, and the West Coast premiere was at the San Francisco International Film Festival, where it won the Audience Award for Best Documentary. Encounter Point has subsequently won the 2006 Audience Award for Best Documentary at the Rencontres Film Festival in Montreal, the Best Musical Score Award at the Bend Film Festival and the 2006 Spirit of Freedom Award at the Bahamas Film Festival. It has screened in Dubai, Jerusalem, Jenin and more than 35 other cities worldwide.

A 52-minute classroom version of Encounter Point is now available for institutional purchase.

Downloadable classroom study guide and additional materials available at www.encounterpoint.com and www.justvision.org.

This film is available with a Digital Site License (DSL), which allows colleges, universities, or libraries to encode, locally host, and stream the film to their community on a closed, password-protected system.

Rental Information
This film is available from AFD for public screenings and television broadcast. For information regarding rental rates and formats, please contact [email protected] for institutional/non-theatrical screenings, or [email protected] for theatrical, festival, television, or other bookings.