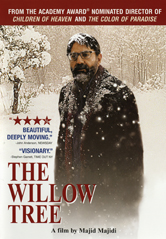 Type:
Feature Film

Director:
Majid Majidi

Year:
2005

Time:
96 minutes

Language:
Farsi w/ English subtitles
"Beautiful, deeply moving." —Newsday
"Visionary!" —Time Out New York
"A masterpiece!" —Film Journal
"[An] intensely poetic. . . soulful film." —New York Times

Ordering Information
Available for online sale
Only 1 DVD copy available for sale! This film is currently out-of-print.
Academy Award® nominee Majid Majidi's most mature and ambitious film to date.

Blind since childhood, Youssef has a devoted wife, loving daughter, and successful university career, but his affliction fills him with secret torment. As if in answer to his prayers, a Paris clinic restores his sight - a miracle that is double-edged. Although this new world of sight and color floods Youssef with ecstasy, it also plunges him into a labyrinth of confusions and temptations. A pretty student begins to eclipse his dowdy, previously invisible wife. In one disturbing scene, he silently watches a subway pickpocket, who fixes him with a look of withering complicity. Eager to claim the lost life he feels he is owed but unable to take the next step, Youssef is inflamed with possibility and paralyzed with egoism. Majidi fashions this story into a powerful parable of sight and insight, using Youssef's condition both as a resonant metaphor for life's second chances and as a source of breathtaking images seen through his reawakened eyes: a dazzling vista of snow-blanketed hills, a shower of molten gold sparks in a jewelry foundry, an array of lollipop lights behind a rain-speckled car window.