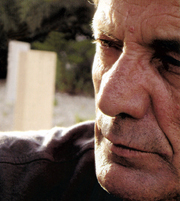 Type:
Documentary

Director:
Mohammad Bakri

Year:
2005

Time:
58 minutes

Language:
English, Arabic & Hebrew with English subtitles
Ordering Information
Available for online sale
Available for online sale
Palestinian actor Mohammad Bakri has been a popular figure in both Israeli and Palestinian cinema of the past three decades. His long list of film credits includes Hannah K. (1983), Beyond the Walls (1984), Cup Final (1991), Tale of the Three Jewels (1995), The Milky Way (1997) and Private (2004).

With his second directorial effort, Since You Left, Bakri visits the grave of his mentor, Emil Habibi, a prominent Palestinian author and politician. In this intimate setting, Bakri attempts to summarize for Habibi some of the personal and political transformations that have occurred in Israel and Palestine since the author's death.

The greater part of the narrative is concerned with the two events which shattered Bakri's life in the years after his mentor's passing. The first is his nephew's involvement in an attack on a public bus in the city of Meiron which left 9 Israelis dead, and the subsequent backlash against the entire Bakri family. The second is the uproar caused by Bakri's 2002 documentary film, Jenin Jenin, which was banned in Israel for two years upon its release. Rich in archival footage and personal film clips, Since You Left is a poignant, poetic and deeply personal letter to a departed friend and fellow artist.

This film is available with a Digital Site License (DSL), which allows colleges, universities, or libraries to encode, locally host, and stream the film to their community on a closed, password-protected system.

Rental Information
This film is available from AFD for public screenings and television broadcast. For information regarding rental rates and formats, please contact [email protected] for institutional/non-theatrical screenings, or [email protected] for theatrical, festival, television, or other bookings.