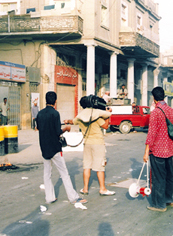 Type:
Documentary

Director:
Mohamed Al-Daradji

Year:
2008

Time:
85 minutes

Produced by:
Mohamed Al-Daradji

Language:
Arabic with English subtitles
"Provides a disturbing look at the situation in occupied Baghdad, when safety was illusory and kidnapping and torture became not merely a hypothetical fear but a reality." –Jay Weissberg, Variety

Ordering Information
Available for online sale
Available for online sale
While visiting Iraq in 2007 for the premiere of his first feature film, Ahlaam, director Mohamed Al-Daradji summons the courage to look back over the turbulent past three years of his life and the making of his film in a volatile war zone.

Undaunted by ever present dangers and heartbreaking chaos, Mohamed returned to his home in Baghdad in 2004. The Iraq he had once known had vanished, replaced by the gritty aftermath of 35 years of dictatorship, three wars, and the wake of occupation. Finding the once vibrant streets consumed by unemployment, poverty, and madness, he strives to fulfill his dream of making a film in the country he loves.

Determined not to succumb to physical and emotional strife, Mohamed's camera rolls on as the world begins to unravel around him. A spectrum of society previously sidelined by images of war is introduced to the audience: a young child sings for Saddam; a father grieves for his hanged son; a young actor thinks back on his time in prison; a troubled friend becomes lost in madness.

Struggling against seemingly insurmountable hurdles involving persecution, imprisonment, personal injury, terrorist attacks, and the numerous restrictions established by U.S. troops, Al-Daradji proves himself to be one of the world's most truly independent filmmakers. War, Love, God, & Madness is the riveting film that documents his experience of making cinematic art in one of the most dangerous and chaotic places on Earth.

This film is available with a Digital Site License (DSL), which allows colleges, universities, or libraries to encode, locally host, and stream the film to their community on a closed, password-protected system.

Rental Information
This film is available from AFD for public screenings and television broadcast. For information regarding rental rates and formats, please contact [email protected] for institutional/non-theatrical screenings, or [email protected] for theatrical, festival, television, or other bookings.