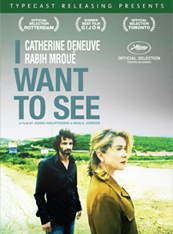 Type:
Feature Film

Director:
Joana Hadjithomas and Khalil Joreige

Year:
2008

Time:
70 minutes

Language:
English, French & Arabic with English subtitles
"Magnificent!... must not be missed. I could heap praises on it forever." —Charles Mudede, The Stranger

"A fascinating little film." —Jon Fortgang, Film4

"An unusual, personal film...defies description." —Ted Fry, Seattle Times

Ordering Information
Available for online sale
Available for online sale
Available for online sale
While in Beirut to attend a glamorous banquet, legendary French actress Catherine Deneuve (Potiche, Belle de Jour) insists on being taken to the southern regions of Lebanon in order to see first-hand the devastation caused by Israel's month-long bombing campaign there in the summer of 2006.

Cleverly blurring the lines between documentary and fiction, directors Khalil Joreige and Joana Hadjithomas (A Perfect Day) create a mesmerizing, thought-provoking travelogue in which they appear as filmmakers capturing Deneuve's road-trip on camera.

After visiting the crumbling ruins of ancient villages and watching as the shattered remnants of cities and towns are slowly pushed into the sea, Deneuve's perception of Lebanon is transformed somewhat when she appears later that evening before the myriad photographers ardently capturing her image at the elegant evening gala.

This film is available with a Digital Site License (DSL), which allows colleges, universities, or libraries to encode, locally host, and stream the film to their community on a closed, password-protected system.

Rental Information
This film is available from AFD for public screenings and television broadcast. For information regarding rental rates and formats, please contact [email protected] for institutional/non-theatrical screenings, or [email protected] for theatrical, festival, television, or other bookings.