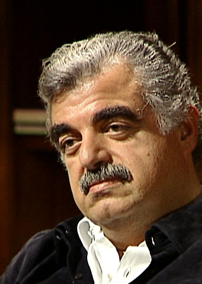 Type:
Documentary

Director:
Omar Amiralay

Year:
2000

Time:
54 minutes

Language:
French and Arabic with English subtitles
Ordering Information
Available for online sale
Available for online sale
The unlikely pairing of Syrian civil society activist and documentary filmmaker Omar Amiralay with Lebanese self-made-billionaire-turned-politician Rafiq Hariri as his subject produces a fascinating portrait of the Lebanese Prime Minister who was assassinated in February of 2005.

Amiralay admits to having reservations about criticizing the powerful leader on film, while Hariri, who is notoriously protective of his public image, is similarly apprehensive about being portrayed on screen by the outspoken director. Amiralay's friends and intellectual colleagues express concern that Amiralay will succumb to Hariri's renowned charm, resulting in a public-relations piece rather than a documentary film worthy of its maker.

Ultimately, Omar Amiralay's Rafiq Hariri: The Man With the Golden Soles is a subtle, nuanced, and reflexive work revealing Hariri both as a super-contractor who was able to tear down Beirut's past and reconstruct it for the future, and as a uniting political force who existed outside Lebanon's warring factions.

This film is available with a Digital Site License (DSL), which allows colleges, universities, or libraries to encode, locally host, and stream the film to their community on a closed, password-protected system.

Rental Information
This film is available from AFD for public screenings and television broadcast. For information regarding rental rates and formats, please contact [email protected] for institutional/non-theatrical screenings, or [email protected] for theatrical, festival, television, or other bookings.