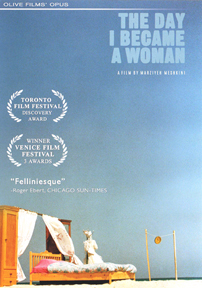 Type:
Feature Film

Director:
Marziyeh Meshkini

Year:
2000

Time:
78 minutes

Language:
Farsi with English subtitles
Winner! — Best First Film, Venice Film Festival
Winner! — Best First Film, Chicago International Film Festival



"Rich in sly humor and symbolic imagery."
—Washington Post
"Achieves its social commentary through passion and poetry." —Seattle Post-Intelligencer

Ordering Information
Available for online sale
"One is not born, but rather becomes a woman."
Simone De Beauvoir's exquisite pronouncement on the social construction of gender in her Second Sex (1994) spoke to generations of women, anad of a universal truth beyond countries and cultures. As an example of astonishing visual poignancy, The Day I Became a Woman is the globally celebrated debut of Marziyeh Meshkini, a young Iranian filmmaker bringing her rich and diversified national cinema to bear on an enduring global concern, in a new crescendo of memorable subtlety and grace.
"The Day" is repeated in three consecutive episodes—the memorial registers of childhood, adolescence, and old age—when three stages of "becoming" a woman are culturally manufactured and socially registered.
From Simone De Beauvoir and Marziyah Meshkini, generations of women (and men) from all cultures around the world have much to learn and even more to achieve.
DVD Special Features:
Audio commentary by Richard Peña, of The Film Society of Lincoln Center
Original critical essay by Shirin Neshat
Photo Gallery
Weblinks
DVD trailer