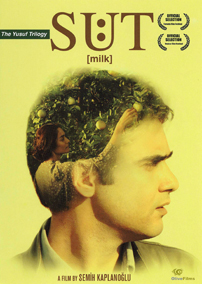 Type:
Feature Film

Director:
Semih Kaplanoglu

Year:
2008

Time:
102 minutes

Language:
Turkish with English subtitles
Official Selection! — Toronto Film Festival
Official Selection — Venice Film Festival



"We are left in a state of truly curious anticipation for what wondrous, unexpected, beautifully filmed places the film is taking us next." —Christopher McQuain, DVDtalk

Ordering Information
Available for online sale
In the second part of director Semih Kaplanoglu's Yusuf Trilogy, recent high school graduate Yusuf is uncertain about his future in the provincial countryside where he lives. Writing poetry is his greatest passion and some of his poems are starting to be published in obscure literary journals. But for the time being, he continues working in his single mother's village milk business.

Since her husband's death, Yusuf's widowed mother has focused all her attention on her only child. Still a young and beautiful woman, she is having a discreet relationship with the town stationmaster. His mother's affair, and his being labeled unfit for military service due to a childhood illness, make Yusuf even more anxious about making the sudden leap into manhood.

The centerpiece of The Yusuf Trilogy, Süt (Milk) is preceded by Yumurta (Egg) and is followed by Bal (Honey).