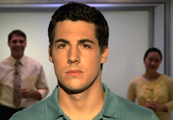 Type:
Short Film

Director:
J. Paul Preseault

Year:
2011

Time:
13 minutes

Produced by:
Jamil Khoury

Written by:
Jamil Khoury

Language:
In English
Ordering Information
Available for online sale
Available for online sale
A semi-autobiographical short video play by Jamil Khoury, both/and disrupts the dictates of "either/or" and "us vs. them," imagining identities that are holistic and non-fragmented.

In both/and, the characters of Jamil, Arab Man, and Gay Man explore and explode the constructed boundaries between American and Arab, Arab American and gay, for-profit and not-for-profit, and other assorted disputed territories.

Watch the trailer:



DVD includes:
On both/and and Being a Both/And-er, an 11-minute video essay in which writer-producer Jamil Khoury discusses the themes and ideas presented in his film.

Jamil Khoury's documentary film Not Quite White is also available from AFD.

This film is available with a Digital Site License (DSL), which allows colleges, universities, or libraries to encode, locally host, and stream the film to their community on a closed, password-protected system.

Rental Information
This film is available from AFD for public screenings and television broadcast. For information regarding rental rates and formats, please contact [email protected] for institutional/non-theatrical screenings, or [email protected] for theatrical, festival, television, or other bookings.