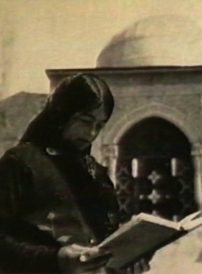 Type:
Documentary

Director:
Mehrnaz Saeedvafa

Year:
1994

Time:
20 minutes

Written by:
Mehrnaz Saeedvafa

Language:
English, Arabic with English subtitles
1rst Prize Women in the Director's Chair



A personal and thoughtful work, charged with feeling.
- Jonathan Rosenbaum

Ordering Information
Available for online sale
Available for online sale
A picture of an unknown Tajik woman found in a Russian book on Tajikistan encourages videomaker Mehrnaz Saeed-Vafa to reflect on issues of exile and cultural conflict for Muslim women from Afghanistan and Iran living in the United States.

Moving interviews with four women (including the director's mother) are interwoven with personal observations, images of the Tajik woman and fascinating footage of Iran and Muslim culture in the US. A Tajik Woman touches on many issues familiar to Muslim immigrants: war and revolution, loss of homeland and conflict with fundamentalist Islamic values.

Sharing these stories begins a much-needed dialogue for Muslim women; it also provides a better understanding of Muslim women who now live in the US. Visions of US (AFI), First Prize Women in the Director's Chair "An incredibly brave and articulate description of the problems facing Muslim women who choose to live in a non-Muslim society." Beth Berolzheimer Columbia College

This film is available with a Digital Site License (DSL), which allows colleges, universities, or libraries to encode, locally host, and stream the film to their community on a closed, password-protected system.

Rental Information
This film is available from AFD for public screenings and television broadcast. For information regarding rental rates and formats, please contact [email protected] for institutional/non-theatrical screenings, or [email protected] for theatrical, festival, television, or other bookings.