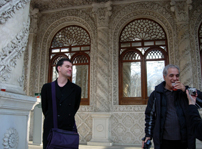 Type:
Documentary

Director:
Ehsan Khoshbakht

Year:
2012

Time:
30 Minutes

Written by:
Ehsan Khoshbakht

Edited by:
Niyaz Saghari

Language:
English, Farsi with English subtitles
"Mark Cousins is incapable of writing anything about
cinema history without making it fascinating."
—Sean Connery

Ordering Information
Available for online sale
Available for online sale
In 2011, Irish author, filmmaker, and former director of Edinburgh Film Festival, Mark Cousins, ended his cinematic odyssey with the release of the 15 hour long compilation documentary: The Story of Film. For this epic project, Mark traveled the world to learn more about the films of renowned directors such as Youssef Chahine, John Ford, Abbas Kiarostami and Ritwik Ghatak and to experience firsthand the settings of their master works. While in Iran, Mark made two tribute documentaries on Iranian cinema: On the Road with Kiarostami and Cinema Iran.

In A Journey Through Iranian Cinema With Mark Cousins, Iranian filmmaker Ehsan Khoshbakht catches up with Mark during the English tour of The Story of Film. Mark explores the impact of the films of Forough Farrokhzad, Abbas Kiarostami and the Makhmalbaf(s) have had on his life as filmmaker and film lover, as he reminisces about the two trips he made from Scotland to Iran in his campervan. Mark also offers fascinating insights on modern Iran: A country whose rich culture and vast history are often overshadowed by the day-to-day fluctuations in modern-day politics.

This film is available with a Digital Site License (DSL), which allows colleges, universities, or libraries to encode, locally host, and stream the film to their community on a closed, password-protected system.

Rental Information
This film is available from AFD for public screenings and television broadcast. For information regarding rental rates and formats, please contact [email protected] for institutional/non-theatrical screenings, or [email protected] for theatrical, festival, television, or other bookings.