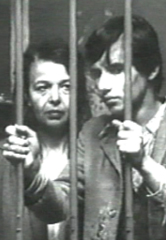 Type:
Documentary

Director:
Mehrnaz Saeedvafa

Year:
1998

Time:
16 min

Language:
English and Persian with English Subtitles
Ordering Information
Available for online sale
Available for online sale
A pioneer of the Iranian New Wave Cinema, Sohrab Shahid Saless, made only two films in Iran: A Simple Event and Still Life. He moved to Germany in 1975 and made several films there including Far From Home, Diary of a Lover, Utopia, and Order before settling in the United Sates in the mid-nineties. He passed way in Chicago in 1998.

In Saless: Far From Home filmmaker Mehrnaz Saeedvafa interviews the veteran filmmaker three weeks before his death in an effort to introduce American cinephiles to his life and work. In addition, Saeedvafa skillfully uses film clips to illustrate the haunting quality of Saless' work and the impact it has had on generations of Iranian filmmakers.

This film is available with a Digital Site License (DSL), which allows colleges, universities, or libraries to encode, locally host, and stream the film to their community on a closed, password-protected system.

Rental Information
This film is available from AFD for public screenings and television broadcast. For information regarding rental rates and formats, please contact [email protected] for institutional/non-theatrical screenings, or [email protected] for theatrical, festival, television, or other bookings.