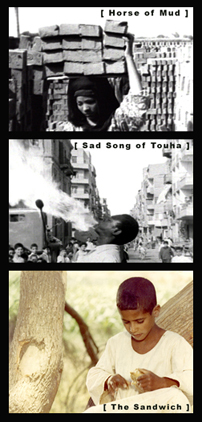 Type:
Short Film

Director:
Ateyyat El Abnoudy

Year:
1971-1975

Time:
36 minutes

Language:
Arabic with English subtitles
Ordering Information
Available for online sale
Available for online sale
1. Horse of Mud
1971, 12 minutes
In one of her earliest and most poignant works, veteran documentarian Ateyyat El Abnoudy captures the dignity of Cairo's poor. In this beautifully photographed document, the primitive process of brick-making is examined, revealing the monotonous choreography of a nonetheless meaningful social task. The sad dance of their fluid movements intermingled with personal stories deeply resonates.

2. Sad Song of Touha
1972, 12 minutes
In many ways the sister film to Horse of Mud, El Abnoudy's second film is a fascinating portrait of Cairo's street performers. In a typically unobtrusive manner, the filmmaker has successfully captured the essence and unique quality of this subculture unified as much by their talents as their marginal social stature.

Through the haunting images of tiny child contortionists and seasoned fire-eaters, this tightly knit community and its secrets unfold with the cinematic qualities of a dream. It is clear that Sad Song of Touha is an homage to the artistry, showmanship, and wonder of Cairo's streets.

3. The Sandwich
1975, 12 minutes
As children play and help prepare a meal, we witness everyday life in a small rural town that seems to have escaped the passage of time—an illusion that is shattered in the film's final frames.

This film is available with a Digital Site License (DSL), which allows colleges, universities, or libraries to encode, locally host, and stream the film to their community on a closed, password-protected system.

Rental Information
This film is available from AFD for public screenings and television broadcast. For information regarding rental rates and formats, please contact [email protected] for institutional/non-theatrical screenings, or [email protected] for theatrical, festival, television, or other bookings.