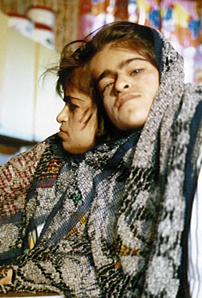 Type:
Documentary

Director:
Mohammad Jafari

Year:
1999

Time:
37 minutes

Language:
Farsi with English subtitles
Ordering Information
Available for online sale
Available for online sale
For Laleh and Ladan, conjoined-twin sisters living in Iran, life has never been simple. Although they are similar to other girls their age in many ways, they must constantly confront issues of individual and shared identity as they go about their everyday lives together. Although aware that it could prove fatal for one of them, they hope to one day undergo the operation that will separate them.

Sadly, in July of 2003, four years after this film was made, Ladan and Laleh both lost their lives while undergoing the surgery necessary to separate them.

This film is available with a Digital Site License (DSL), which allows colleges, universities, or libraries to encode, locally host, and stream the film to their community on a closed, password-protected system.

Rental Information
This film is available from AFD for public screenings and television broadcast. For information regarding rental rates and formats, please contact [email protected] for institutional/non-theatrical screenings, or [email protected] for theatrical, festival, television, or other bookings.